Copper Water Jug Pitcher Dispenser 5 litres Leak Proof With Glasses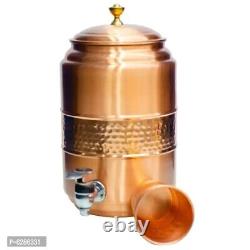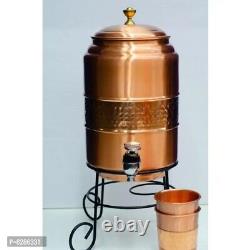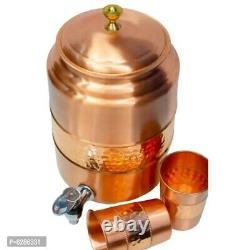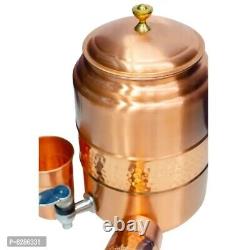 Pure Copper 5 Litre Matka Water Dispenser Jug With Brass Nob And Nickle Plated Tap. Length: 25.0 (in cm). Width: 20.0 (in cm).
Height: 20.0 (in cm). Capacity: 5000.0 (in ml). Pure Copper Matka 5L With Brass Nobe And Nickle Plated Tap, 1 Iron Stand And 1 Pure Copper Glass 250Ml Weight 70 Grams.
Height Of The Matka12 Handcrafted For Ayurvedic Health Benefits Upgrade Plastic/Steel Containers With Pure Copper Water Containers: Replace Steel Kitchenware With These Stylish And Elegant Copper Products To Enjoy The Health Benefits Of Copper. Care Instructions: Put Some Pitambri Powder With Hot Water Inside It. Shake Well For A Few Minutes, Clean, And Rinse With Normal Water.
Cleaning With The Brush Is Not Required. For The Exterior Of The Dispenser, Use Pitambri Powder With A Soft Cloth To Clean amp; Rinse With Normal Water Note: Do Not Use The Copper Matka Pot Dispenser To Store Any Liquid Other Than Water.