Copper Jug Pitcher with Brass Knob, Storage & Serving Water Volume- 2000 ML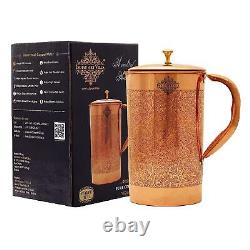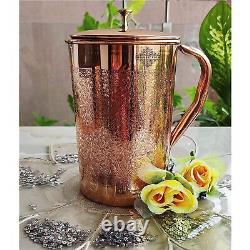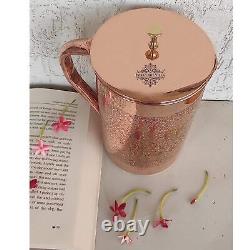 Specification:- Copper Full Embossed Jug, Material:- Copper, Height:- 8.5'' Inch, Width:-4.8'' Inch, Weight:- 500 Gram, Capacity:-2000 ML. HEALTHY HABIT: Water stored overnight in copper utensil has innumerable health benefits. It has anti bacterial properties that helps purify water & remove toxins.
It aids digestion & weight loss. It protects us from diseases like arthritis, anaemia, blood pressure, hyper thyroid, cancer and relieves us of joint pains.
It has immense skin benefits too. So indulge in this healthy habit for a better you! Warnings: Don't use the Jug for storage other than water. Cleaning instrucations:- clean your copperware by hand and avoid dishwasher. Use pitambri powder to clean copper utensils and wipe with soft cotton cloth. Copper products tarnish/oxidize over time, this is natural for copper products. Please follow the care instruction manual for cleaning copper products.
Comes in different designs & sizes, Great gifting option, Pure copper jug with lid that has brass noob, Beautiful eye-catching design on the outside, Gives a great look to your home décor. Er and instruction manual is provided.