Copper Hammered Set of 1 Jug Pitcher 2100 ML with 1 Glass 250 ML Drinking water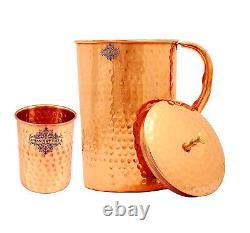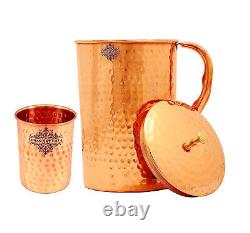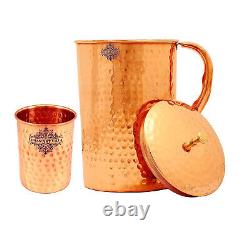 Water stored over night in copper Utensil is essential for hemoglobin synthesis, bone strength and immunity building. Copper helps in maintaining digestive health, healing wounds and relieving pains. Copper is an Antioxidant and anti-carcinogenic that prevents cell damage and slows aging. Copper is primary element to produce melanin (pigmentation of eyes, hair and skin) in human body. ARTISAN CRAFTED Handmade metal ware is made by skilled craftsmen in India.
Comes with INDIAN ART VILLA How to use, Care instruction Booklet, Copper Cleaning Powder and INDIAN ART VILLA genuine packaging. Copper Products Tarnish/oxidize over time, this is Natural for Copper products. Please follow the care Instruction manual for cleaning Copper products. Sample Copper Cleaning powder and instruct. 22.9W x 22.9H Centimeters. Copper Hammered Set of 1 Jug with 1 Small Hammer Glass. Ion manual is provided with every order.