Clay Pitcher Water Jug terra cotta with Glass, Lid Stainless Steel faucet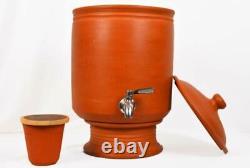 Alloy Steel tap and clay. 22.9 x 22.9 x 22.9 Centimeters. SPECIFICATIONS: Color: Earthen Brown, Volume: 1.8 gallon, 6500 to 7000 ml, Dimensions: Pot Dia - 23 cm and H - 24 cm, Material: Earthen Clay, Package contains: 1 Water Pot with Lid, 1 Steel Tap, 1 Stand, 1 Glass and 1 Coaster. FEATURES: Ideal for having drinking water or Iced beverages. Made with raw earthen clay with no glazing inside and outside.
Water Pot is provided with high quality stainless steel spigot (install by hand), that prevents rust, breakage and leaking. Our Dispenser comes with a clay stand that elevates your drink dispenser so you can easily fill your clay glass and a wood coaster lid for our glass, which is a perfect Drink-ware combo set for your house. BENEFITS: Get cool water naturally and thus good for health. Keeps water cool all the times in all the seasons.
Water stored in clay pot quench your thirsty feeling and gentle on your throat. Using of earthen clay helps balancing the pH scale because of the alkaline nature and healing with the elements of earth. MAINTENANCE AND CARE: Before first use, fill Terracotta pot with water overnight so it's good to go next day. Wash it with a mild detergent and gently scrub the pot. Let it dry naturally before each use.
It can't be used for cooking on flame or on induction. HANDMADE IN INDIA: 100% Natural clay, Non-toxic, Lead Free, Arsenic free, Cadmium free, Un glazed, No artificial colors are used - does not harm your health and environment in any w.